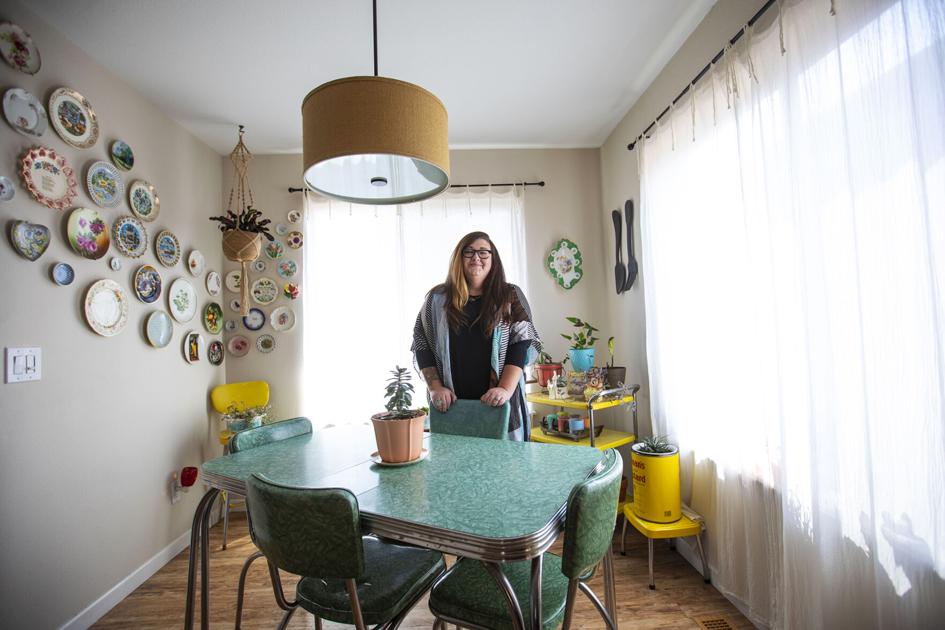 Behold Sarah Coleman's garage, a treasure trove of all things vintage.
There are stacks of colorful books that serve to decorate more than educate. She has ornate cloths and cute dishes to cover your table. They probably already sold, but she also has electric scissors and a crocheted koozie for a toaster. And so much more where that came from, depending on the day.
Sorry, but there won't be a garage sale here. To find her treasures, you'll have to go on Instagram.
That's where the Colorado Springs woman has hosted her store — or "instashop" — called The Traveling Button since 2012.
It started after Coleman began upcycling and selling jewelry at craft shows. "They were fun, but really time- consuming," she says. "It was an awful lot of lugging stuff here and there."
To eliminate the lugging, she started selling her stuff on Instagram. It was a flop.
"Nobody wanted to buy my stuff online," she said. "It was a complete failure."
One day while looking for jewelry supplies, Coleman came across a ceramic figurine of a little lady holding two poodles. The 1950s piece reminded her of something her grandma would have, so she bought it for a few bucks.
Just for fun, she posted a picture of her purchase on her Instagram, which had around 700 followers.
Instantly, Coleman says, someone commented: "Is this for sale?" Two others said they'd buy it.
Coleman was surprised. "To be fair," she said. "That was back when I hadn't committed my entire house to vintage like I have now."
"I can't sell a piece of handmade jewelry to save my life, but this thing my grandma used to have is what people want?" Coleman thought at the time. "OK, weird. The internet's a weird place."
Soon, she pivoted to please the weird place. She started looking around flea markets and thrift shops for "vintage, kitschy, midcentury stuff." She's always loved vintage, anyway, and has an eye for it. Whatever items she wanted to sell, she'd post them on Instagram. She learned as she went what people were looking for. And how much. Little books for a couple bucks. A vintage typewriter goes for $125.
Over the years, she built her quirky shop up to 20,000 followers. But it's never been her main gig until recently.
For the last 16 years, she and her husband have lived off running a wedding photography business.
"Our main bread and butter has always been weddings," she said. "As we know, the wedding industry has died this year."
With traditional weddings on hold during the coronavirus pandemic, their biz, and primary source of income, was devastated.
Thankfully, there was her instashop.
"Vintage became my main gig instead of my side gig," she said.
Same with her husband, David. He's more focused on his shop, coined Junk Drunk Mantiques.
Together, they spend their time picking all over Colorado Springs, Pueblo, Florence and beyond.
When Coleman picks, she looks for items from the '40s to the '80s that offer "kitsch and style." While those terms are broad, she knows what to look for. An "awesome" boho beaded handbag? Math flash cards from 1978? A miniature pink play kitchen set? All yeses in her book.
Mostly, she looks for things that remind her of Grandma Mimi. The woman who lived to be 95 reminds Coleman of good times, watching cartoons after school and having a snack and being loved.
"If I'm about and I see something that reminds me of something she had, I know I'm going to buy it," Coleman said. "It's nostalgic for me."
Along with devoting more time to The Traveling Button, Coleman is translating everything she's learned into another gig. She's now a coach for others running their own vintage stores on Instagram.
"There's all these people that need their side hustle to be successful right now, too," Coleman said. "I kind of want to pay it forward."
She also wanted to find another way to pay her bills.
"It's been very hard. We're trying to overcome the odds in a really crappy year," Coleman said. "Thank goodness for vintage and Instagram. That's what is keeping us afloat right now."