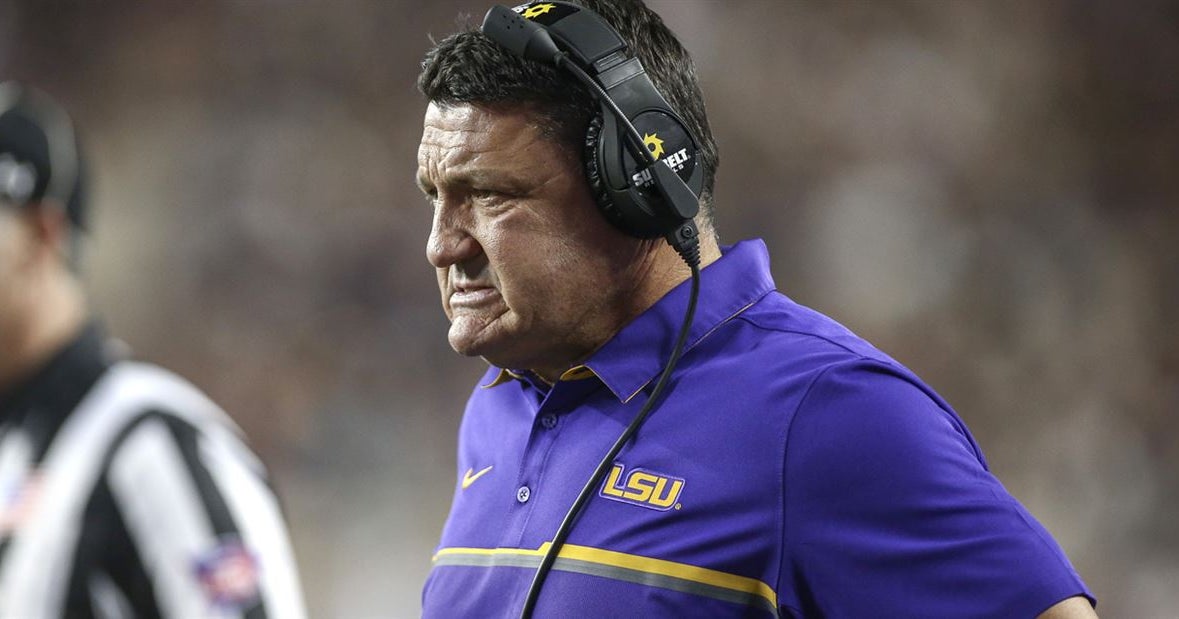 When Ed Orgeron was growing up about 100 miles southeast of Baton Rouge in Larose, La., he asked his father if they could go watch the LSU Tigers in person. His father's answer proved prescient.
"He said, 'Son, we can't afford that,'" Oregon said on 60 Minutes Sunday. "'But let me tell you something: if you keep on working you won't need a ticket to get into Tiger Stadium.'"
HIs father was right, though Orgeron's journey to LSU head coach was anything but smooth. He actually signed with LSU after helping South Lafourche High School to a state championship, but left after a year with the Tigers.
"The next day my daddy woke me up at six o'clock in the morning and said, 'Let's go, we're going to work,'" Orgeron said. "I was digging ditches. And people were passing on the side of the road, 'You quitter, you couldn't take it.' It was the worst day of my life and my father just looked at me and said, 'Dig.'"
Orgeron dug deep and resurfaced at Northwestern State, where he didn't just finish his time as a player, but started his coaching career as a graduate assistant. A graduate assistant job at McNeese State followed, then an assistant strength coaching job at Arkansas. And then appeared to come Orgeron's big break. He starred as defensive line coach at Miami from 1988-92, with the Hurricanes winning national titles in 1989 and 1991.
When he took a leave of absence from Miami in 1992, it nearly prompted a restart, with Orgeron resurfacing in 1994 as a linebackers coach at Nicholls State. From there he moved to Syracuse and eventually USC, where he was hired by Paul Hackett, but retained by Pete Carroll. Two more national titles followed 2003 and 2004, and in 2005, Orgeron took his first head coaching job at Ole Miss.
During that time, Orgeron built up the Rebels' talent level; his recruiting exploits were captured in the book Meat Market, and Houston Nutt took Ole Miss to the Cotton Bowl the year after Orgeron was fired. For his part, Orgeron coached with the Saints as a defensive line coach for a year, then followed former USC coaching mate Lane Kiffin to both Tennessee and USC. When Kiffin was fired, Orgeron was named interim head coach and went 6-2, including a 6-1 mark in Pac-12 play. But the Trojans went another direction, naming Steve Sarkisian coach.
Orgeron resigned, then headed home as defensive line coach under Les Miles. When Miles was fired he again become interim coach, and this time rode a 6-2 mark to the permanent job. After 9-4 and 10-3 seasons in his first two years, everything came together. Armed with the eventual Heisman Trophy winner at quarterback in Joe Burrow and a deep receiving corps that included Biletnikoff Award winner Ja'Marr Chase, Orgeron brought in Joe Brady to tweak the offensive system, creating one of the most dominant offensive seasons of all time. The defense was athletic and deep and played its best football late in the season as the Tigers completed a perfect 15-0 year and won the national championship.
For his work, Orgeron won several coaching awards, including the Associated Press Coach of the Year award, the Home Depot Coach of the Year award, the Eddie Robinson Coach of the Year award and the Paul "Bear" Bryant Award, also for the nation's best coach.
He's come a long way from not being able to afford a trip to Tiger Stadium, and like his dad said, he doesn't need a ticket on Saturdays to see LSU play.