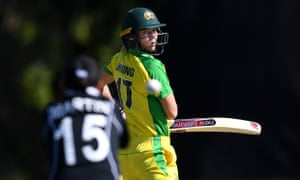 6.59am BST
06:59
AUSTRALIA WIN BY SEVEN WICKETS!


6.46am BST
06:46
Meg Lanning to 50… and Suzie Bates off the field injured.


6.38am BST
06:38
WICKET! Mooney c Bates b Mair 16 (Australia 149-3)


6.08am BST
06:08
WICKET! Haynes c Perkins b Jensen (Australia 106-2)


5.18am BST
05:18
WICKET! Healy c Kerr b Mair 26 (Australia 41-1)


4.20am BST
04:20
New Zealand 180


4.14am BST
04:14
WICKET! Jensen c Carey b Jonassen 21 (New Zealand 180)
7.06am BST
07:06
Georgia Wareham is player of the match for her 2/23. So consistent, so good. Sophie Devine now speaks. "No excuse" she says of the New Zealand performance with the bat. She jokes that Bates is simply "too old" when asked about her shoulder injury – it sounds like she'll be fine. Meg Lanning's turn to talk. "It was nice to be out there in the middle not having to worry too much about scoreboard pressure." On Ash Gardner's finger, hurt when catching Bates earlier, she isn't too concerned either.
And that, my friends, is that. If Australia can go on to sweep this three-game series, they will pull even with Ricky Ponting's team – the all-time record in ODIs for consecutive wins. And we'll be back on Tuesday for the game two. Bye for now.
7.02am BST
07:02
Updated
at 7.06am BST
6.59am BST
06:59
AUSTRALIA WIN BY SEVEN WICKETS!
6.46am BST
06:46
Meg Lanning to 50… and Suzie Bates off the field injured.
6.38am BST
06:38
WICKET! Mooney c Bates b Mair 16 (Australia 149-3)
6.08am BST
06:08
WICKET! Haynes c Perkins b Jensen (Australia 106-2)
5.18am BST
05:18
WICKET! Healy c Kerr b Mair 26 (Australia 41-1)
4.42am BST
04:42
Thanks, JP. Morning all. From the handover summary, it sounds like, I'm afraid, a fairly typical New Zealand performance when taking on Australia. Very tidy numbers from the triumvirate of home spinners, claiming 6/80 from 29.1 of the best, with the three seamers taking a wicket each. From 83/6, the target of 181 is a few more than they should be chasing, but that won't concern Lanning and co. As always, it'll be great to chat with you throughout. Drop me a line; ping me a tweet.
4.35am BST
04:35
Right, to see you through Australia's chase Adam Collins has logged on. Be sure to keep him company. I'll see you again later in the series.
4.20am BST
04:20
New Zealand 180
4.14am BST
04:14
WICKET! Jensen c Carey b Jonassen 21 (New Zealand 180)
4.10am BST
04:10
WICKET! Mair run out (Mooney) 7 (New Zealand 177-9)
Updated
at 4.10am BST
4.00am BST
04:00
Updated
at 4.04am BST