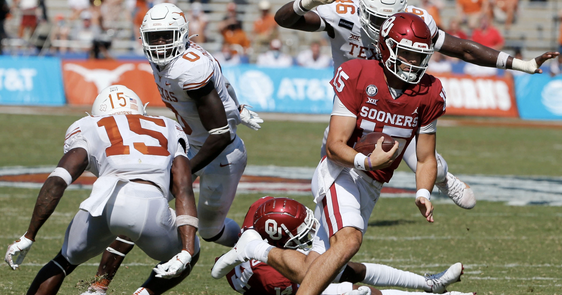 For the first time in Jimbo Fisher's tenure at Texas A&M, his football team looked like a conference championship contender many thought they would be during Saturday's win over previously-unbeaten Florida. The Aggies made more plays than the Gators down the stretch, snapping their losing skid to Top 10 competition with a thrilling victory at Kyle Field.
"Very important because you got to learn to win these," Fisher said after the game. "You got to learn to not play the scoreboard and play every play. Relentless competitor, win your space, the scoreboard takes care of itself. I can't say enough, people doubted – we deserved some of it, but we had a good football team and program."
ESPN updated its Football Power Index rankings following college football's sixth full weekend early Sunday as several national title contenders saw movement, including Alabama, who was downgraded a bit after a narrow win at Ole Miss.
The Football Power Index (FPI) is a measure of team strength that is meant to be the best predictor of a team's performance going forward for the rest of the season. FPI represents how many points above or below average a team is. Projected results are based on 10,000 simulations of the rest of the season using FPI, results to date, and the remaining schedule. Ratings and projections update daily.
From Nos. 25 to 1, here are the changes in ESPN's Top 25 after Week 6 including major changes inside the Top 15: