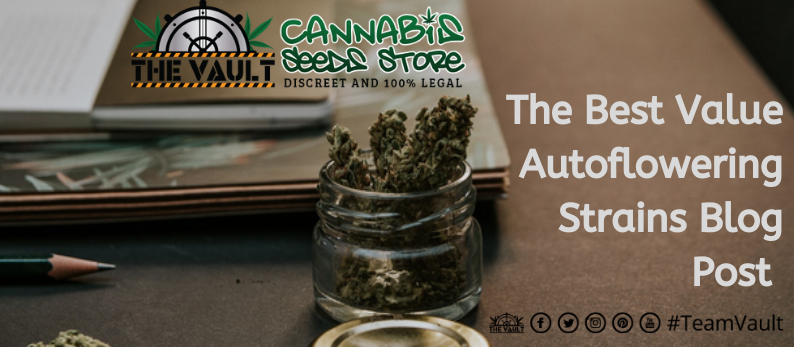 Best Cheap Autoflowering Seeds
In the current economic climate, there aren't many of us that can afford to splash out on luxury items. We don't know what will be around the next corner, so saving money is certainly the order fo the day. For growers who want high-quality autoflowering seeds, there is no need to despair, we've got you covered. The Vault Cannabis Seed Store has everything a thrifty grower needs to keep their autoflowering garden full and thriving. For those of us who are new to the growing scene, here is a little bit about Autoflowering seeds.
Autoflowering simply means that the plants will flower at a certain point in their life rather than as the result of a light cycle. Not only does this shorten the overall grow time by shortening the vegetative period, but it also shortens the stature of the plant. This makes them perfect for indoor growers or those who are just lacking a bit in space. Despite their diminutive stature, these plants will still produce incredible yields. It isn't difficult to understand by autoflowering strains are so popular. These seeds are also feminised which simply means they will only grow into female plants. Feminised seeds can save growers a lot of time and money that would otherwise be wasted on pointless males.
Here are just a few strains that will help to protect the bank account without sacrificing quality.
Caseus Auto Feminised Seeds
This amazing strain that was created by adding autoflowering genetics to V Elementum's Caseus regular strain. This strain is indica dominant giving it a powerfully relaxing effect with a classic cheese/earthy flavour. For those thinking about growing indoors, the aroma can be powerful so the plant will need to be well ventilated. This strain will be ready to go after just 8 weeks and is nice and easy to cultivate.
Krippleberry Auto Feminised Seeds
This strain is something truly special, especially for the low price. A mixture of Blueberry genetics and Ruderalis (autoflowering) genetics. This strain has an average THC content of 16% and the buds will be compact whilst covered in a thick layer of resin. Krippleberry is extremely potent and fast-acting, almost as fast as her growing. This strain will take just 60 – 70 days to reach maturity and will grow into short, bushy plants.
White Widow Auto Feminised Seeds
This is a strain that really needs no introduction, but I shall give it one anyway. White Widow is one of the world's most famous strains. She has been around for decades and has formed the genetic base for hundreds of other incredible plants. This strain is well known for her effect which is both relaxing and energising at the same time, excellent for those who suffer from anxiety. She is an amazing strain, both therapeutic and exciting with a deliciously peppery flavour and a hint of herbs. Most excitingly this little lady will flower in just 49 days, excellent for the impatient gardener. Definitely one of the best value strains available.
Super Hash Auto Feminised Seeds
Super is definitely the best word to describe this strain. She is a real power hitter with top notch resin production. Definitely a great strain for oil extraction, especially as it is therapeutic and indica heavy. Like most autoflowering strains this girl is extremely fast flowering and will only take 56 days. The THC levels on Super Hash tend to reach about 17% and it has a high CBD level of 1.6%. She is perfect for those who are suffering from anxiety, stress, depression or just need to chill out after a long day.
Anubis Auto Feminised Seeds
This short, thick beauty is perfect for growers who don't want anything too powerful. She has a moderate THC level of 15% and a CBD level of 0.7%. This renders the effect soft and relaxing without being brain meltingly intense. The flavour and scent are both sweet yet sour, reminiscent of grapefruit. This strain grows extremely well both indoors and outdoors, which makes it perfect for all growers. Like most autoflowering strains it will produce short bushy plants that won't take up too much space. She will usually flower in just 56 days.
Blue Pyramid Auto Feminised Seeds
Blue Pyramid is best known for its extremely impressive yields which will usually hit around 600 g/m2 in just 63 days. This one is also a relatively soft with a THC level of 15% and a CBD level of 1.4%. This strain is indica dominant and extremely easy to grow. Since it isn't too strong it is a great one for mild relaxation and dealing with pain or anxiety without getting completely knocked out. Blue Pyramid is recommended for therapeutic use with a number of conditions.
Super OG Kush Auto Feminised Seeds
Super OG Kush is an amazing strain that was born of Hindu Kush, OG Kush and Ruderalis genetics. She is definitely an impressive specimen with a THC content of 17.5%. Her effect is extremely soporific, perfect for night time use. It is also extremely relaxing and ideal for those who struggle with sleep due to anxiety. She takes just 65 – 75 days to flower and will produce yields of around 500 g/m2. Her buds are extremely dense and resinous which also makes her a perfect strain for extraction. Definitely considered a strain good for those who are looking for something a little more medicinal.
All of these seed will produce amazing plants and won't break the bank. The Vault also provide mixes for growers who just aren't sure what they are looking for but don't want to spend a small fortune on a wide variety of seeds. Remember, just because we want quality doesn't mean we have to empty our bank accounts.
The Vault Cannabis Seed Store
Why not head on over to The Vault Cannabis Seeds Store and pick up some cannabis seeds now, whilst taking advantage of the discount codes VAULT15 for 15% of your order total and don't forget to check out our discount cannabis seeds page for all the latest offers, promos and competitions!

Make sure you never miss another Vault promo and sign up for our newsletter at https://www.cannabis-seeds-store.co.uk/the-vault-newsletter
Remember: It is illegal to germinate cannabis seeds in many countries including the UK. It is our duty to inform you of this fact and to urge you to obey all of your local laws to the letter. The Vault only ever sells or sends out seeds for souvenir, collection or novelty purposes.