It's officially Halloween season! Carved out pumpkins, colorful lights and spooky house decorations are back but not really with a bang. COVID-19 has canceled a lot of plans for us since its advent and Halloween is one of them. No more trick or treating or fun late-night parties with everyone dressed as their favorite characters. But does it mean the fun has ended? Not really. If you have a 420 card, you can still treat yourself this Halloween. How? With cannabis subscription boxes.
While the US deals with the third wave of COVID-19, staying indoors and maintaining distance has become an indispensable aspect of life. Since Halloween is knocking on our doors during such low times, cannabis subscription boxes seem to fit the picture naturally. It provides canna-users with a tasteful package containing a slew of high-end products. From luxury subscription boxes to an average marijuana lover box, famous brands are delivering these goods to people's doorstep. Perhaps it would be fair to say that subscription boxes are no slacker stash but a pack of concentrates, edibles, and flowers which customers seem to clamor for.
So, what are you waiting for, read about different subscription formats below, and order yours today? You don't want to miss out on surprising yourself this Halloween with a beautifully designed box reeking beautifully of cannabis products.
Enjoy Cannabis Subscription Boxes With a 420 Card
Before we get into the nitty and gritty of different cannabis subscription boxes, there are a few things first-time cannabis enthusiasts should learn. First and foremost, the format of a subscription can be a little tricky to get right. The assortment of cannabis goods largely caters to the requirements of customers. This enables companies to build a potential chain of long-term customers. However, not all brands resonate enough with subscribers and eventually end up losing them.
In addition, while ordering subscription boxes, as a user you get to choose the type of delivery you want. You can also take a quiz and select a mix of pre-rolled joints, cannabis flowers, and THC-infused edibles. After your given preferences ideally companies providing subscription boxes will take care of the rest. The only exception here is that the price of each box varies in case of an add-on purchase. That said, now let us take a look at the list of subscription boxes you can order today so that you can have a treat by Halloween.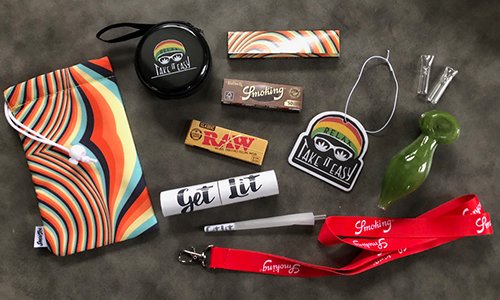 Courtesy:

SensiBox 
The Sensi Light Box
Currently, SensiBox has released the November edition with add ons such as Bamboo Lighter Case, a cannabis quoted key-chain, and a Dissim inverted lighter. The October Sensi LightBox is also available and it contains five items along with a smoking pipe. Moving on, the Sensibox folks also have a special edition of subscription boxes that are curated according to the additional requirements of the customers. These subscription boxes include a wide range of high-quality cannabis products. You will find a custom-made hand-pipe in the box with a padded pouch pipe and some high-quality smoking papers.
Ideally, the special edition subscription box is a collection of 10-11 items with a plan one, six, and twelve months. Besides the item mentioned-above the box contains a smoking brand lanyard, Raw Brand rolling papers, take it easy car freshener, get lit cone and rolling papers, 2 smoking glass tips, and a take it easy nug case.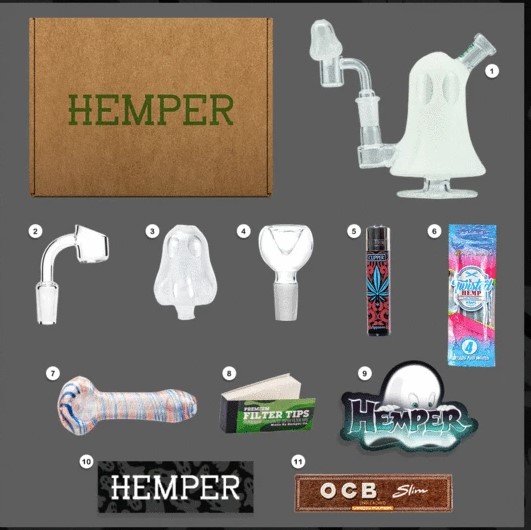 Courtesy: The Hemper Box
The Hemper Box
If you want to lay your hands on some of the coolest and latest cannabis accessories, fellows at Hemper Box provide one of the best cannabis subscription boxes and will make them readily available for you. Every month hemp box comes with a collection of incredible rolling papers, cleaning tools, and some of the latest selection of smoking pipes. Cannabis lovers can order a subscription box to avail of high-quality products.
The best part about getting a subscription box is that you don't have to step out. You can sit at home, subscribe to a box, and, in turn, help lower the pandemic curve. Also, when a subscriber orders a box, they get different types of curated goods wrapped neatly in attractive packaging. Similarly, Hemper Box too has a collection of goods and cannabis accessories.
From the Hemp Box, you will receive COVID-19 friendly items such as the Ninja Face Mask along with a Ninja Rig, Ninja Dab Tool, and Assorted OCB Cones. The entire subscription box will cost you $39.99 and additional charges for the add ons you request. Besides the above-mentioned products a clipper lighter, 14 MM flower bowl, and quartz banger are some other items included in the box.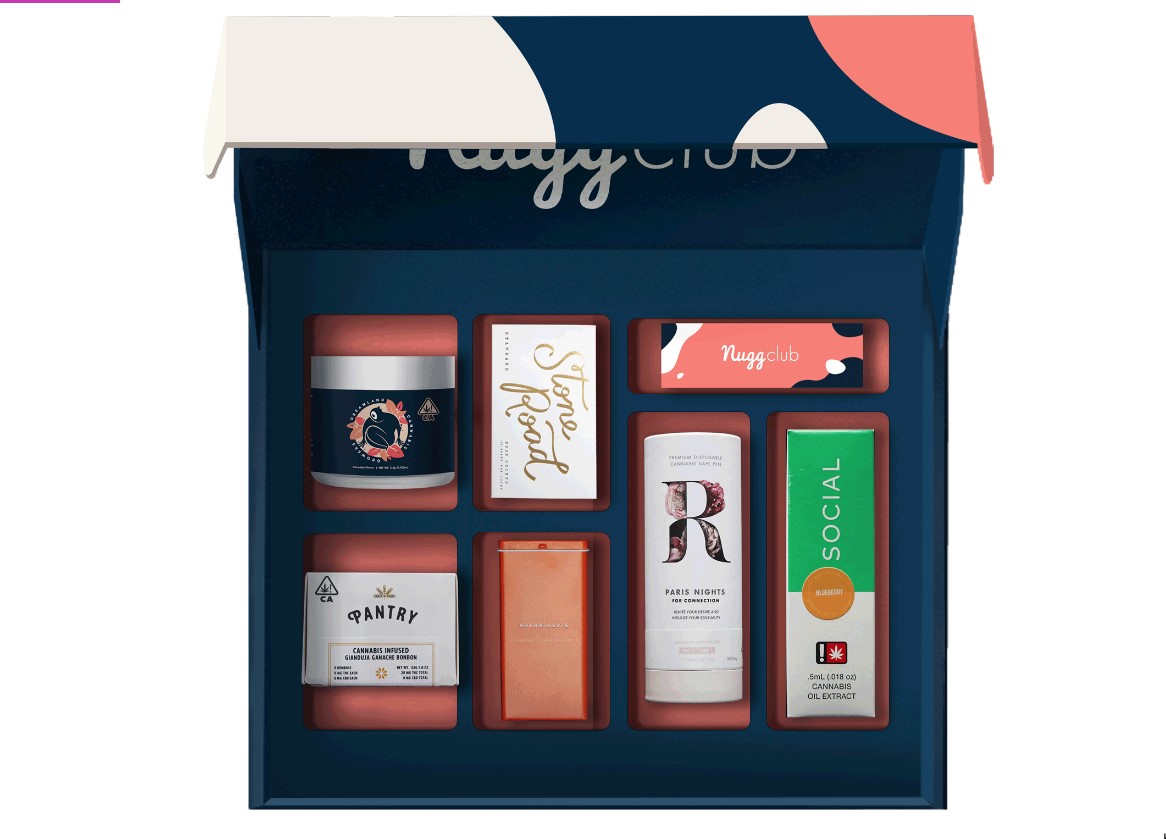 Courtesy: Nugg Club
Nugg Club
Nugg Club subscription boxes consist of 5-6 products worth $225. Each item is curated according to the suggestions provided by the customer in the questionnaire following the purchase. The box is highly curated and personalized. You can find a wide range of products inside a Nugg Club Box.
The products range from edibles to flowers, pre-rolls, vapes, and hybrid strains. The Club also has a digital store-front for cannabis-tech lovers and you can get products delivered at your doorstep. The only catch here is that Nugg Club is still in its infancy and you can order a subscription box only if you live in Orange County or L.A.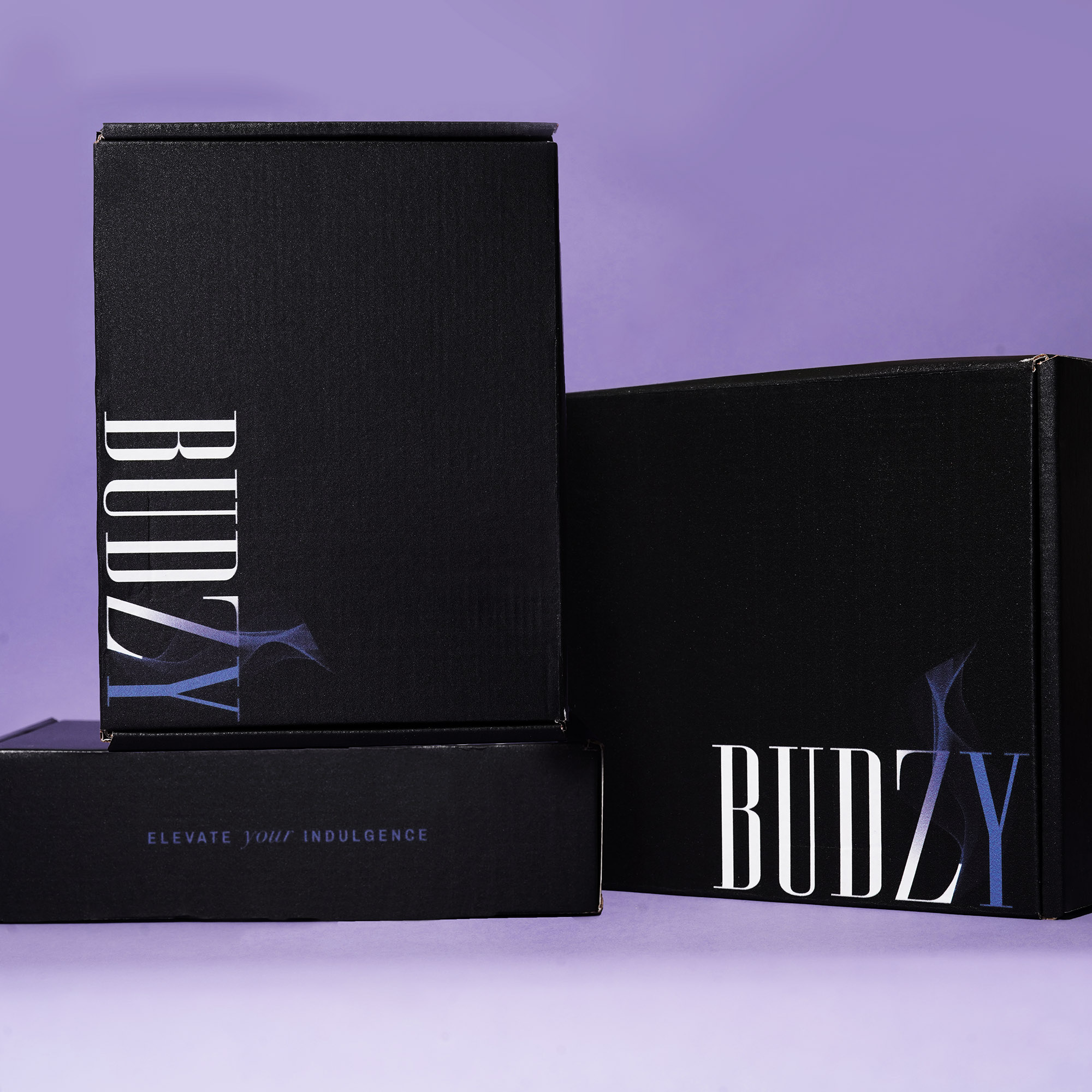 Courtesy:The Budzy Box
The Budzy Box
A new subscription box at a market price of $58.99 per month. Just like the above-mentioned subscription boxes, this box, too, comes with simple and quick home delivery. If you are specifically looking for CBD luxury subscription boxes, the Buddy Box features high-end CBD products. The CBD subscription box contains calming wearable patches, feel-good tea packets, soothing balms, skin-care products, and chocolates to fight anxiety.
Budzy Box largely focuses on cannabis products for women and it has a wide collection of CBD curated products from Make and Mary. The interesting thing about this brand is that they offer free shipping to all its customers and curate the boxes with the help of a specialized team. All in all, you will find subscription boxes from various niches. Be it cannabis lifestyle, creams, oils, skincare products, or snacks and teas.
If you want a cannabis subscription box, get it created for yourself and enjoy the bliss of high-end cannabis products. However, make sure that you get a medical cannabis recommendation or a 420 card to be able to access the marvel of the box you choose to purchase. Once your box of wonder is delivered to you, you can spend Halloween night enjoying your specially curated cannabis goodies. So, go ahead and apply for a cannabis subscription box today and have a Happy Halloween.